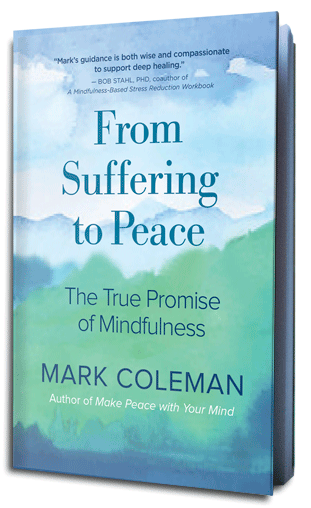 From Suffering to Peace
From Suffering to Peace
Like yoga and meditation before it, "mindfulness" is a buzzword in everything, including medicine, the military, education, sports, prisons, and therapy. Drawing on the knowledge he gained studying with mindfulness meditation teachers in Asia, Europe, and the United States for decades, Mark Coleman clarifies what mindfulness truly means. His approach is actually a study of how to engage with and transform pain ― in the body, from illnesses and injuries to death; in the heart, as we love and recognize our need for others; and in the mind, as we fail to understand our interconnectedness with the world.  From Suffering to Peace will help readers of all kinds access and benefit from the "true promise of mindfulness."
Make Peace with Your Mind
How Mindfulness and Compassion Can Free You from Your Inner Critic
by Mark Coleman
foreward by Tara Brach
The inner critic is the voice inside our heads reminding us that we are never "good enough." It's behind the insidious thoughts that can make us second-guess our every action and doubt our own value. The inner critic might feel overpowering, but it can be managed effectively. Meditation teacher and therapist Mark Coleman helps readers understand and free themselves from the inner critic using the tools of mindfulness and compassion. Each chapter offers constructive insights into what creates, drives, and disarms the critic; real people's journeys to inspire and guide readers; and simple practices anyone can use to live a free, happy, and flourishing life.
Also available as an audiobook
Awake in the Wild
Mindfulness in Nature as a Path of Self Discovery
by Mark Coleman
Introduction by Jack Kornfield
"Nature deficit disorder" has become an increasingly challenging problem in our hyper modern world. In Awake in the Wild, Mark Coleman shows seekers how to remedy this widespread malady by reconnecting with nature through Buddhism. Each short (two to three pages) chapter includes a concrete nature meditation. Incorporating anecdotes from Mark's many nature retreats, Buddhist wisdom and teachings, important nature writings by others, and nature itself, the book invites readers to participate in, not just observe, nature; develop a loving connection with the earth as a form of environmental activism; decrease urban alienation through experiencing nature; embody nature's peaceful presence; and connect with ancient spiritual wisdom through nature meditations.
"Wonderful, delightful, deeply touching."
"Make Peace with Your Mind can change your life."
"Beautiful, soulful, enormously useful."
"The benefits of these practices are real and wide-ranging."
"Wonderful and important."
"Gifts of wisdom and many practical tools to work with your own mind and heart."
Meditations for Awareness, Insight, Relaxation and Peace
by Mark Coleman
Train your mind to discover clarity, calm and profound relief from stress. Discover the power and personal effectiveness of the art of mindfulness meditation.
Mindfulness of Breathing – 20:00
Insight Meditation 29:10
Body-Scan 29:10
Meditations on Love, Compassion, Joy and Forgiveness
by Mark Coleman
These meditations teach you how to live with a 'Heart as Wide as the World' which embraces everything with kindness and friendliness.
Loving Kindness 24:26
Compassion 19:03
Appreciative Joy 15:09
Forgiveness 19:21
by Mark Coleman
Reading his own nature-inspired poetry, mindfulness and meditation teacher Mark Coleman movingly speaks to the heart about the path toward awakening and how to live this human life with presence, curiosity, and love.
20 Tracks